The Gardener's Dirt December 2013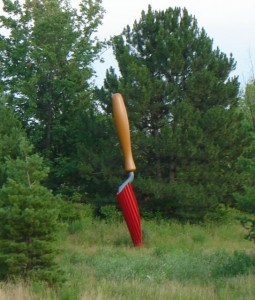 Information you can really dig into
This newsletter offers timely information for your outdoor living spaces. Addressing the
most common questions ranging from container gardening, tree pruning, wildlife management, to fire ant control, insect identification and lawn establishment.
Click here for a printable version of this newsletter.
Shawn Banks
Extension Agent
Agriculture—Consumer Horticulture
_________________________________________________________________________________________________
FEATURE ARTICLE
How To Plant Trees and Shrubs
By:  Joanne King
The cool months are a great time to plant shrubs and trees. Most plants are in their dormant period. It's beneficial to move plants at a time when they are less likely to dry out so energy can go to root development. So, get out the pick and shovel and listen up!
If you are like my husband and I say dig a hole, he says, "Where do you want the hole and, how big and how deep?" Good question. Evaluate the space for its suitability for the mature plant, and situate the hole where the plant will have enough room for the future. Remember, right plant, right place! These instructions generally pertain to any planting — container, burlapped, or bare-root– with some exception.
Dig a hole at least 1-2 feet wider than the container and a little bit deeper. If the soil is hard, use a pick to loosen the sides of the hole to create better contact between the roots and the soil. If you don't loosen the sides, the plant may continue to grow like it is still in a container and can become root bound.
Put some loose soil in the bottom of the hole to bring the depth up to container depth. Make sure the plant is at the same depth as it was in the growing medium before it was transplanted.
Remove the plant from the container. Loosen the roots all around the plant, remove any dense roots that may have formed at the bottom, and untangle roots that may have encircled the container. The goal is root ends having contact with the loosened soil.
Level the plant in the hole. Add some soil, but not all of it. Add some water to the hole and allow it to soak in.
Mix some compost to the backfill soil. Once the water has soaked in, fill the hole, being careful to pack only to create stability for the plant.
Trench the soil at the surface level as wide as the plant, so that water will be captured around the base of the plant. Add 2-3 inches of mulch and water the plant. Water every few days for the first few weeks, even in the winter, especially if it has been windy.
You may need to stake the plant to protect the plant from strong winter winds.
Now here are the exceptions. With a tree, you will almost certainly need to stake the tree. With a bare-root tree, dig the hole to a size about 1-2 feet wider than the root zone, create a cone of loose soil in the hole, and spread the roots over the cone. Back fill the soil being careful not to let the tree sink in the hole. Reposition and add soil to the root zone to raise the tree to the base level. Allow the plant to dry before adding water.
Here are a few links with more information on planting trees and shrubs.
Planting Techniques for Trees and Shrubs
http://www.cals.ncsu.edu/agcomm/publications/Ag-613a.pdf Gardeners Guide to Fertilizing Trees and Shrubs
http://durham.ces.ncsu.edu/files/library/32/UNH%207.PDF Successful Planting of Trees and Shrubs
________________________________________________________________________________________
FEATURE PLANT
Winter Daphne
Daphne odora
By: Margy Pearl
When looking at a list of plants that provide winter interest, you'll always see Daphne odora. Native to China and Japan, winter daphne is a glossy leaved, evergreen plant for zones 7-9 that is also attractive year round. Growing in a mound shape that rarely needs pruning due to its slow growth rate; it can reach 4 feet high by 5 feet wide. Although there are a number of desirable cultivars available, they fall into two general groups; the solid color green leaf and the variegated. Flower colors for both groups include white (Alba) and shades of pink to a rosy purple.
'Aureomarginata', arguably the most commonly grown variegated cultivar, has leaves with a narrow, irregular yellow margin. The plant produces terminal clusters of small, nosegay-like flowers in February to early March that are crystalline white inside and deep purplish-pink outside. Red, fleshy, drupes with one seed inside (that can be immediately propagated in a cold frame) occasionally develop after flowering. The 'Marginata' cultivar has a slight, creamy white margin with rosy-pink flowers that open to white. It has been observed that the colored margins of the variegated cultivars tend to widen as the plants mature. These lighter markings are especially suited to brighten up shady areas where these beauties prefer to grow.
Highly prized for its strong, sugary scent that some describe as jasmine or citrus-like, winter daphne should be placed near a high traffic area, if possible, to appreciate the intoxicating fragrance during the cold weather. Lasting about 6 weeks in the landscape, the flower clusters of winter daphne will also keep well in water. It's reported that the scent perfumes an entire house!
Why don't more people grow this outstanding plant? The most common complaint of the Daphne species is that they can "up and die". "Their root systems are stringy and do not respond well to transplanting or disturbance," says Michael Dirr, retired professor of horticulture at the University of Georgia and author of 12 books, many of which have become standard references for gardeners. He also said "Even with her finicky nature, old plants of Daphne odora do exist." The Smith-Gilbert Gardens in Kennesaw, Ga., for example, has two specimen-sized Daphne odora that were planted in one of their woodland gardens in 1992 and 1993. There's one at the JC Raulston Arboretum that is several years old. Then, there's the reason for this article, the lovely and very well established variegated cultivar that my neighbor estimates was planted about 10 years ago. It was a very small plant at that time, she says, and is now about 3 feet by 4 feet.
So, how do we increase the chances of a winter daphne reaching old age? Since root rot diseases associated with poorly drained soils are likely the major cause of failure in the landscape for this plant, think "Right Plant, Right Place" and add "right drainage". They do best in a raised bed or slightly elevated mound of deep, well-drained woodland soil with plenty of humus and a pH of 6 to 7, which is slightly "sweet" or alkaline. If you're using some of our clay soils, be sure to add amendments such as sand, ground bark, and/or permatill or gravel. Mulch well to hold moisture but keep the mulch away from the stems. It does best in light to moderate shade, receiving some morning sun. To err on the side of caution, let the soil dry between watering. My successful neighbor shares the opinion of experts that winter daphne is actually low maintenance and they tolerate drought well. Don't give in to the temptation to pamper and overwater it! For those of us with critter problems, a definite plus in that the deer usually leave this plant alone!
For gardeners who have a small garden space or who want to try a daphne but under more controlled conditions, they do very well in containers. Placed in a high traffic area, the plant's beauty and aroma can brighten a cold winter day. Just be sure to move the pot to a garage or other location during hard freezes so the soil in the pot doesn't freeze.
Is Daphne odora worth a try? Beautiful foliage and flowers, amazing aroma, shade loving, tolerates drought, and deer resistant, what's not to like? Plant it right the first time, water carefully, and, Lord willing, it will grace your winter landscape for many years. I'm ready to take a chance. Are you?
For your bookshelf or e-reader: "Daphnes: A Practical Guide for Gardeners," by Robin White. Robin White is a nurseryman with more than 30 years of experience in growing and breeding Daphnes. 224 pages, 160 color photographs. Timber Press. 2006
References:
Successful Gardener, March 2008
http://pitt.ces.ncsu.edu/2006/01/two-winter-interest-winners/
http://pitt.ces.ncsu.edu/2013/09/what-are-the-best-fragrant-shrubs/
http://www.mnn.com/your-home/organic-farming-gardening/stories/how-to-grow-daphne-odora
Royal Horticulture Society, Daphne odora 'Aureomarinata'
_______________________________________________________________________________________
UPCOMING EVENTS
Extension Master Gardener Volunteer Training
We are now accepting applications for a new class of Extension Master Gardener Volunteers. The class will begin Thursday, January 19, 2014. We will meet each Thursday from 1:30 until 4:30 until April 24. Classes will be held at Johnston County Agriculture Building, 2736 NC Highway 210, Smithfield, NC 27577.
After the training is completed, each class participant will be asked to volunteer 40 hours over the course of the next year. We need volunteers to help with one or two of the following tasks including answering questions that come into the office from phone, email, or walk-in clientele, school programs and other youth activities. Lastly, we would like to start a 4-H Horticulture program and need a trained volunteer for that program as well. Other ways to fulfill the volunteer hour requirement would include helping with clinics where we answer questions for people who stop by, writing articles for The Gardener's Dirt newsletter, giving gardening presentations, and a few other educational activities.
If you are interested in becoming an Extension Master Gardener Volunteer, contact our office by phone 919 989-5380, and ask for Shawn Banks. If you are accepted, the class will cost $100, which will cover the cost of state fees and materials for the class.
________________________________________________________________________________________
YARD VILLAIN
Purple Deadnettle
By: Laura Taylor
It's a good bet that you've experienced purple deadnettle before and even as you are reading these words, this winter annual is settling into our yards and crops in preparation for an early spring bloom. A member of the Lamiaceae (mint) family, deadnettle is sometimes referred to as bee nettle because it provides an early source of nectar for some bees. The term, nettle, is typically applied to plants with stinging hairs. The deadnettle resembles those plants, yet it does not sting.
While this weed can be an unwanted host to insects and disease pests, some people enjoy it as an edible potherb added to salads, soups, or made into medicinal tea. Still others enjoy the color and structure it gives to flower arrangements. Whether you see the life cycle of this plant and the close cousin it is often mistaken for, the henbit, as a visit or an invasion, it is fairly short-lived. Early spring blooms die as the temperatures rise in late spring and early summer leaving seeds that germinate in the fall or winter to produce plants that grow in any warm weather throughout winter and early spring.
Both of the plants, henbit and deadnettle, have square stems, a common distinction among mint family members.
Deadnettle leaves are paired opposites that are somewhat heart-shaped or triangular with serrated edges, and are crowded along the top portion of the stem. They tend to be purple or reddish and are attached to the stem with petioles. Flowers are usually pink.
Henbit leaves are paired opposites as well, yet they are rounder, more softly scalloped at the edges, greener (as opposed to the red or purple coloring associated with purple deadnettle), and they attach directly to the stem without petioles. Henbit flowers are usually blue or purple.
Both plants tend to grow in thin turf, unplanted fields and along roadsides, especially where moisture remains available. The best way to avoid them in lawns and gardens is to maintain a healthy soil and thick turf appropriate for the area. Mow to an appropriate height, fertilize, and apply proper amounts
of water for the conditions. If necessary, purple deadnettle can be controlled with a post-emergent application of metsulfuron in the spring in many turf grasses commonly found in North Carolina (such as Bermuda, Bluegrass, Centipede, and Fescue). Henbit is more difficult to control; cool season turfs require fall applications of two, three, and four way broadleaf herbicides while invasion of warm weather turfs can be controlled with fall or spring applications of sulfonylurea herbicides.
Note: there are some organic post-emergent herbicides, but they are reported to have limited use in areas where turf or other desirable plants are actively growing because they can injure them. Some that are showing promise have not been tested enough as yet to prove their efficacy. Thus, you might consider limiting use of organic herbicides to control deadnettle in parking lots, along fences, and in other bare ground areas.
It seems that perspective is all that differentiates the bothersome or beneficial nature of this pretty plant with purple foliage and pink flowers. Consider the nature and use of the areas wherein you find deadnettle and remember that it blooms around April and is gone by May's end. Then, sip a cup of tea and decide how best to manage the deadnettle – and its cousin the henbit for that matter – in your area.
Resources:
Pictures found online at No-Till Farmer:
NCSU Plant fact sheets:
Henbit, NCSU TurFiles: http://www.turffiles.ncsu.edu/Keywords/purple_deadnettle.aspx#IS004126
Purple Deadnettle, NCSU TurFiles:http://www.turffiles.ncsu.edu/Keywords/purple_deadnettle.aspx#IS004113
Purple Deadnettle, The Hiker's Notebook: http://hikersnotebook.net/Purple+Deadnettle
Dealing With Henbit, Purple Deadnettle In No-Till Fields, No-Till Farmer
Purple Deadnettle, Turf Tips: http://purdueturftips.blogspot.com/2013/04/aprils-weed-of-month-is-purple.html
________________________________________________________________________________________
WHAT'S IN SEASON
American Chestnut and Chinese Chestnut
Castanea dentate and Castanea mollissima
By: Vicki Shore
"Chestnuts roasting on an open fire" is a picture many of us imagine this time of year.Let's go back to pre 1900s when in the United States, there were over four billion chestnut trees. In the Appalachian forests, one out of every four trees was a chestnut. These were the American chestnuts. They often grew over 100 feet tall, and were valued not only for the delicious nut, but also the wood was used for furniture, interior paneling, and telegraph and telephone poles.Much of the log fencing used along the Blue Ridge Parkway is chestnut.Tannins were also a by product of the chestnut trees.
Catastrophe struck the American chestnut with a blight disease caused by the Asian fungus, Cryphonectria parasitica.The year was 1904, and the Bronx Zoo in New York City was the first place this was seen. The disease spread quickly by insects, birds and animals.The mature North Carolina American chestnuts were all dying by the 1930s.
The blight only kills the portion of the tree, which is above the ground so the infected tree may continue to resprout.Although some trees managed to escape the blight, the fungus still lives in the bark of oaks and ash trees.
Unlike the American chestnut, the Chinese chestnut is resistant to the blight disease; however, it is not immune.Much smaller, the Chinese chestnut grows to about 20 feet. It is a rapid grower, and by the fourth year may begin to bear up to a half bushel of chestnuts.The Chinese chestnut tree needs fertile, well-drained soil that is slightly acidic and at least six hours of direct summer sun.Two trees are required for cross pollination. Chestnut weevils are pest, much like the pecan weevil.
Chestnuts are not easy to get to as they come inside a prickly baseball size burr. One burr can hold up to three chestnuts.Once harvested, the chestnuts need refrigeration, ideally with high humidity.Unlike other nuts, the chestnut is high in carbohydrates.They can be prepared by slitting one side, and then roasting in a 400-degree oven for about 30 minutes.Peel off the shell and eat while it is still warm.
The American Chestnut Foundation is trying to bring back the American chestnut by backcross breeding it with the Chinese chestnut. The object is to find healthy American Chestnut trees that can be used to cross with the resistant Chinese tree.  Hopefully, one day those majestic trees can once again dominate the Appalachian forests.
Reference:
The American Chestnut Foundation:www.carolinas-tacf.org
Lee Reich , Feb/March 2010: www.motherearthnews.com/organicgardening
Images:
Doug Goldman @ USDA-NRCS Plants Database/USDA-NRCS-NPOT http://plants.usda.gov/core/profile?symbol=CADE12
___________________________________________________________________________________________
DECEMBER GARDEN TASKS

GENERAL UPKEEP
Learn exactly what your soil needs by taking a soil sample and having it tested. Most plant health problems start in the soil.A healthy soil will mean less pest and disease problems.
LAWN CARE
If it hasn't been done already fertilize cool-season lawns such as fescue. Roots of cool-season grasses continue to grow whenever the ground is not frozen.
Cool-season weeds in established cool-season or dormant Zoysia or Bermudagrass lawns may be treated with broadleaf herbicides.
TREES, SHRUBS &ORNAMENTALS
Prune evergreens to use for winter decorations in the house by cutting out unwanted limbs that would be pruned in February anyway. (Save major pruning for late winter.) Holly, Magnolia, Cedar, and Nandina foliage will last a long time.
Many landscape shrubs can be propagated from hardwood cuttings including American holly and junipers Juniper.
Prevent winter damage to plants from dessication (drying), freezing and thawing, and breakage from ice and snow loads. Keep plants watered during dry periods. Read 'Protecting Plants from Cold Damage.'
This is an excellent time to mulch shrubs, trees, perennials, and herbs for winter protection. Apply a layer 3″ deep since most perennials are dormant and it's easy to get a wheelbarrow into the garden. Read Mulch comparisons and general info.
Weed out "weed" trees and shrubs. Prolifically-seeding plants like oak, elm, Mimosa Tree, hackberry, plum, and ligustrum (privet) produce numerous offspring which compete with other landscape plants for light, water and nutrients. Weedy woody seedlings are easier to remove while still young.
Put your cut Holiday tree to use! Cut the branches and lay them over perennials to protect them from the cold. Shred small branches to make mulch.
EDIBLES
Do NOT prune fruit trees now. Fruit trees are best pruned late winter just before they start to grow in spring.
Asparagus crowns can be planted now through March.
LANDSCAPE IDEAS
Giving gifts? Consider giving a good gardening book or accessory! Gardening is a gift all year round.
Build raised beds now for plant next spring.Find out why and how at:Raised Bed Gardening Made Easy.
WILDLIFE
Clean bird feeders monthly with hot sudsy water and diluted bleach to prevent the spread of wild bird diseases. Keep seed hulls from accumulating underneath the feeder to discourage rodents.
HOUSEPLANTS
Check holiday and gift plants for insects before locating them near other plants.
___________________________________________________________________________________________
If you have gardening questions you would like to have answered contact the Extension Master Gardener Volunteers by phone at (919) 989-5380 or by e-mail at jcemastergardener@gmail.com.
If you would like to subscribe to this monthly newsletter send an e-mail to shawn_banks@ncsu.edu and ask to be added to the electronic newsletter list.
___________________________________________________________________________________________
Was the information on this page helpful?